Special Events and Programming
Wednesday, September 28, 2016
Welcome Reception and Program
Program sponsored by the University of New Mexico
Sheraton Uptown Hotel
5:15 – 6:30 p.m.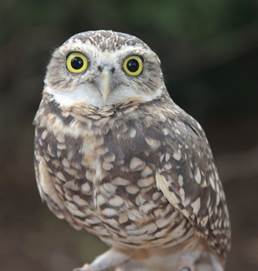 Enjoy a welcome reception with "All About Owls with Gail Garber and Friends!" presentation from Hawks Aloft
Live owls up close! Whooo is that calling in the night? What might you expect to see during different seasons in New Mexico? Join Gail Garber and staff of Hawks Aloft as we venture into the world of owls of North America, nineteen species in all. Learn how different owls have adapted to their unique habitats, from the Snowy Owl of the far north, weighing in at nearly 4 pounds to the diminutive Elf Owl of the southwest that weighs less than two ounces. Laugh with us as we relay some of our owl adventures both near and far, from the riparian woodland along the Rio Grande, to the Sax Zim Bog near Duluth, MN. This talk will feature the live educational owls of Hawks Aloft as well as the amazing imagery of Doug Brown, David Powell, Keith Bauer, and our other favorite photographers.

---
Dinner on your own or with optional dinner group
6:30 p.m.
Garduno's of Mexico, 2100 Louisiana Blvd NE Ste 21, Albuquerque, NM 87110
New Mexican, Southwestern (Price Range: $12 - $20)

Cheese Cake Factory, 6600 Menaul Blvd NE, Albuquerque, NM 87110
American and CHEESECAKE of all types! (Price Range: $12 - $25)

Elephant Bar and Grille, 2240 Louisiana Blvd NE, Albuquerque, NM 87110-3581
American, Japanese, Asian (Price Range: $10 - $26)

Bravo Cucina Italiana, 2220 Louisiana Blvd NE, Albuquerque, NM 87110-3581
Pizza, Italian, Gluten-free (Price Range: $12 - $30)

Romano's Macaroni Grill, 2100 Louisiana Blvd NE, Ste 209, Albuquerque, NM 87110
Italian (Price Range: $21 - $30)

Japanese Kitchen Sushi Bar, 6521 Americas Pkwy NE, Albuquerque, NM 87110
Japanese, Sushi, Asian (Price Range: $15 - $30)

Alien Brew Pub, 6601 Uptown Boulevard Northeast, Albuquerque, NM
American, Pub Food (Price Range: $8 - $15)

BJ's Restaurant and Brewhouse, 2100 Louisiana Blvd. NE, Building 213, Albuquerque, NM 87110
American (Price Range: $10 – $22)
---
Thursday, September 29, 2016
Excursion and Dinner
Excursion and Dinner sponsored by the University of New Mexico
5:00 p.m. – 9:00 p.m.
5:00 p.m. Buses depart Sheraton Uptown for Albuquerque Museum, 2000 Mountain Rd NW, Albuquerque, NM 87104
Enjoy the Museum's After Hours Exhibit Tour "Route 66: Radiance, Rust, and Revival on the Mother Road"
John Steinbeck dubbed it "The Mother Road" in The Grapes of Wrath. Celebrated in songs, film, books and television, U.S. 66 was established in 1926, crossing eight states and three time zones, its immortality paved by American car culture.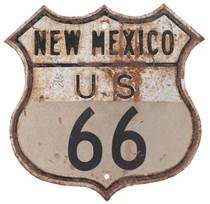 The Mother Road weaved 380 miles across New Mexico, through Tucumcari, Albuquerque, Gallup and the Navajo reservation. Today it runs almost parallel to Interstate 40. In the 1950s and 60s, Route 66 epitomized glamour, adventure and a freedom from the conventional. This ethos resonated with the writers of the post-war "Beat Generation" as well as vacationers in their new Air Stream travel trailers and history and culture junkies. In 1956, Eisenhower's Interstate Highway system signaled its decline, but the spirit of Route 66 lives on; nowhere more so than in this Albuquerque Museum Exhibit.


6:00 p.m.
Attendees will walk to nearby Church Street Café for a pre-dinner reception and New Mexico themed buffet dinner beginning at 6:30pm
Church Street Café, 2111 Church Street NW, Abq, 87104
7:00 p.m. Dinner Program
Hot Air Ballooning and the Albuquerque International Balloon Fiesta, presented by Thomas J. Fisher, Balloon Pilot, Balloon Museum Board of Trustees and volunteer
Tom brings to this presentation a unique perspective on ballooning as he is a classroom instructor and Certified Flight Instructor for Lighter Than Air aircraft (Hot Air Balloons) and he is a pilot in the Albuquerque International Balloon Fiesta.
Tom retired as the Director of Systems and Networking for the Indian Health Service, Public Health Service, Department of Health and Human Services.  When Tom was working at his desk job and entered that mid-life crisis age of 50 he was looking for something exciting to do outside of the workplace. One day he and his son happened on a couple of balloons getting ready to launch.  He offered to help, got his first ride and was hooked.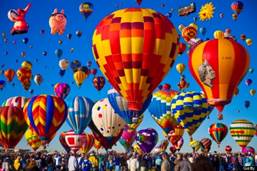 He became a Private Pilot in 1988 and a commercial pilot in 2002.  He enjoys giving tours at the Balloon Museum, teaching at Albuquerque Aerostat Ascension Association (AAAA or "Quad-A") and Ground Schools. He is member of the Board of Trustees at the Balloon Museum and has been the Education chair for AAAA. He still loves flying and spends almost every weekend all through the year flying passengers.

The program ends at 8:00 p.m. and attendees are encouraged to explore Old Town Albuquerque. Buses will leave Old Town to return to Sheraton Uptown at 9:00 p.m. and 9:30 p.m.
---
Optional Excursions
Conference attendees can sign up for these optional activities during the conference.


Friday, September 30
Sandia Peak Tramway Trip and Dinner on your own
Transportation provided
A trip on the Sandia Peak Aerial Tramway transports you above deep canyons and breathtaking terrain a distance of 2.7 miles. See some of nature's more dramatic beauty unfold before you. At sunset the desert skies produce a spectacular array of color, and your vantage point from the observation deck atop 10,378 foot Sandia Peak in the Cibola National Forest affords an 11,000 square-mile panoramic view of the Rio Grande Valley and the Land of Enchantment. Located on the eastern edge of Albuquerque in the Sandia Foothills at the end of Tramway Road. (Sandia Peak Tram Website)
We'll leave from the Sheraton Uptown at 5:00 p.m. and travel to the base of the Tram. Adult tickets are $25 for adults and $20 for seniors.
Dinner will be at the High Finance Restaurant (top of the tram) or Santiago's Mexican Grill (bottom of the tram) depending on group decision.
Both locations offer a great view of the sunset at 6:39 p.m.
Please note: Temperatures at the top of the tramway can be as much as 30 degrees cooler!
---
Saturday, October 1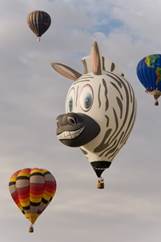 Albuquerque International Balloon Fiesta Mass Ascension
Leave with guide from the Sheraton Uptown at 4:15 a.m. for Coronado Mall Park and Ride Location.
Tickets for the Park and Ride at $15 if pre-purchased/ $22 the day of.
http://www.balloonfiesta.com/guest-guide/park-ride
The Mass Ascension, a launch of all the participating balloons, has been a feature of Balloon Fiesta since its earliest days and is the most spectacular display of sound and color in all of aviation. During mass ascensions, balloons launch in two waves. Launch directors, also known as zebras because of their black-and-white-striped outfits, serve as traffic cops, coordinating the launch so balloons leave the field in a safe and coordinated manner. Weather permitting, balloons begin to launch at about 7:00 a.m. on mass ascension days, led by a balloon flying the American flag to the strains of The Star Spangled Banner.(From the Balloon Fiesta Website)
Admission to Balloon Fiesta Park is $10 per person
The bus returns to Coronado Mall on the half hour.
---