Featured Speakers
---
General Session
Thursday, October 30
Dr. Richard C. Maybury, Ph.D.
President and CEO, Peak Performance Group
Becoming the Driver of Change
Like a 17th century sailing ship's captain who combined the tools of his trade with experience and instinct to focus on interpreting the seas, skies and winds, weather change can be anticipated. Anticipation enables the skipper to use the changing seas to his or her advantage and possibly plot new courses representing emerging opportunities. Continuing Education in many universities offers broad-range benefits while often and paradoxically being under-appreciated and viewed as an appendage to the core mission. This can require CE operations to be self-sufficient and entrepreneurial, persistently having to reaffirm its quantitative and qualitative value to: the school, its traditional and non-traditional programs and students, community and sometimes the fiscal health of the institution.
This presentation focuses on techniques for analyzing, anticipating and planning for sea changes in Continuing Education markets, customers, and shifts in higher education. This enables CE leaders to shift energy from reacting and managing change to more a more entrepreneurial approach, anticipating and proactively leading the change process.
About Richard Maybury
Dr. Richard Maybury is an organizational psychologist and the President of Peak Performance Group, Inc. Richard's specialization is in organization behavior, business and organizational assessment, motivation, human performance research, transformational learning, adult education, global business transformation and strategic development. 
Dr. Maybury has worked in over 40 countries and with over 500 clients conducting research and empowering critical people and teams in support of global strategic business planning and execution, transformational change, and the execution of high value initiatives. His clients have spanned the spectrum of for-profit, not-for-profit, and governmental. Dr. Maybury holds TS/SCI and ISSA/TS top-secret security clearances with the Department of Defense and U.S. Intelligence Agencies.
Richard is currently the Chairman of the Board of Newfield Design, Inc. representing the Maine Venture Fund and is the former Chairman of the Essex County Human Rights Commission. Dr. Maybury has managed profit centers and global organizational development and education organizations for the following companies: GTE Products Corporation, General Electric Company, Geary Corporation and Applied Learning, Inc. 
Presently he is a professor in the Post University Malcolm Baldrige School of Business MBA program. Previously Richard has been a faculty member for the following schools: Philadelphia University MBA program, Boston University, Fairfield University, University of Houston, Wexner Heritage Institute and numerous corporate universities. Additionally, he is a Fellow in the Fielding University Institute for Social Innovation.
Richard earned his Doctoral and Masters Degrees in Human and Organizational Development from Fielding University, and his Bachelor of Arts degree in Clinical Psychology and Computer Science from the Massachusetts College of Liberal Arts.  In addition Richard has completed work in the MBA program at Babson College and the Masters of Adult Education program at the Massachusetts College of Liberal Arts.  Richard also completed the Leadership Educators Program at the Harvard University Kennedy School of Government.
---
Closing Session
Friday, October 31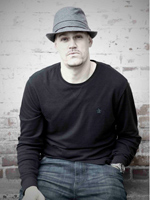 Harnessing the Power of Hip Hop in Higher Ed
Peter Plourde
a.k.a. "Professor Lyrical"
Professor, Northeastern University, Artist and Award Winning Musician
"Professor Lyrical" is an artist, educator and award winning rapper known for using the positive aspects of Hip Hop culture to empower citizens to self-advocate for socioeconomic change. He's also a full-time Lecturer of Mathematics within Northeastern University's College of Professional Studies in Boston, Massachusetts. He teaches within an innovative first year program known as Foundation Year, and also teaches undergraduate math majors at Northeastern who have minors in teaching mathematics. He regularly speaks and performs at institutions and organizations seeking to harness the power of Hip Hop culture to foster positive change and is known for creatively using the power of music and mathematics to build culture in the classroom, bridging connections to the larger outside communities he serves. Visit ProfessorLyrical.com to learn more about him and his work.