UPCEA Central 2013 Regional Conference
Disruption 2.1 - A Regional Perspective

The only constant is change!
Extending the theme from this year's national meeting, the UPCEA Central Region conference will focus on change and innovation at the regional and local level – Disruption 2.1. We are designing a meeting that will be informative and interactive, and that will allow you to learn about change and innovation occurring across the region. Come to listen, learn, and explore. Leave with new ideas, approaches, and tools to manage disruptions, or to create your own!
Thought-provoking sessions and time to connect with colleagues
We have an excellent lineup of concurrent session speakers who will cover a range of topics dealing with innovative approaches to adult learners, new credit and non-credit programs, online learning, marketing, and more.

We are including a dean's panel, reports from the national office, a session on student and alumni engagement, awards, and a reception.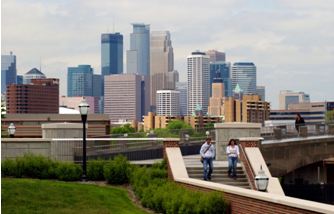 Vibrant Twin Cities
The Twin Cities area has the largest number of arts and cultural organizations per capita in the nation (click here for a complete list). From our headquarters at the Crown Plaza Hotel in downtown Minneapolis, you will have easy access to many of them. Or if you prefer, make a trip to the Mall of America for some unprecedented shopping. Or take in a Twins game at one of the most beautiful ballparks in the country.  
To help you decide and connect with your colleagues, we have created a sign-up sheet that provides more information about several options, or add your own! Sign up for an activity or event that interests you, and find others to join along.


Check the schedule for details on concurrent sessions and the full scope of Central Region conference activities.

Please contact us if you would like more information:

Bob Stine, Central Region Conference Chair
rstine@umn.edu

Debbie Hagenmaier, Central Region Chair
debbieh@k-state.edu

Join the conversation on CORe, UPCEA's professional networking platform!


Like UPCEA on Facebook!


Add UPCEA to your LinkedIn Groups!


Follow UPCEA on Twitter!